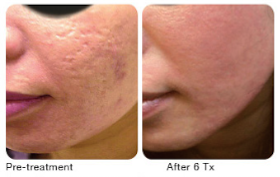 Treatment can improve the appearance of:

+ Fine lines
+ Skin revitalization
+ Wrinkles
+ Stretch marks
+ Acne scars
+ Non-keloid hypertrophic scars
+ Skin laxity

+
(even in the neck area!)


Results

Immediate revitalization of the skin can be observed followed by improvement that progresses over the course of the next 6 months. Wendy recommends a series of treatments every 4-6 weeks for optimal treatment results.


Clinical benefits:

Applicable for all skin types
Short downtime
Minimally ablative
Fast treatment times

CALL TODAY FOR A FREE CONSULTATION AND MORE INFORMATION!


The Skinfinity RF Treatment can also be used in conjunction with the PRPT microneedling treatment to give you even greater outcomes!